Before I begin my master classes in the fall, I've decided I might as well get all my fun reading in when I have time. I have been trying to diversify my reading beyond young adult fantasy/scifi novels and thrillers. So far, I've looked at the cover of potential books and haven't made it much farther. Does reading museum plaque descriptions count? I visited the Lydon B. Johnson musuem and library last weekend and spent at least an hour reading inscriptions about his life. Actually, I spent 85% of the time in the African American athletes exhibit because . . . I was a bit of a sports history buff when I was a kid and I had a deep fascination with the development of sports. As a kid, my heroes were Hank Aaron, Saitchel Paige, and Wilma Rudolph (to name a few). When I first walked into the exhibit, I was thinking about a quick breeze through (Seriously, I had a notebook of athletes and their statistics when I was nine.) but then it became just as nostalgic as it was an educational experience. Suddenly, I felt like a kid again marveling at the strides underdogs made in sports and overcoming the color barrier. It made me appreciate my history and remember the sacrifices. Oh, and the Lydon B. Johnson exhibits were enlightening too, but I've got a soft spot for the athlete's journey. So does musuem reading count as a different type of reading? I'll let you decide. Meanwhile here's a list of some books I'm reading or am going to read for the rest of summer:
War Storm by Victoria Aveyard. Young Adult Fantasy – I highly recommend, if you like reading about people with airbender abilities and the clash between a domineering race and a enslaved one. Scratched that. The main character's power is super cool and that's why I've kept reading. This is the last book in the series.
A Reaper at the Gates by Sabaa Tahir – Another young adult fantasy and end-of-series book. I am still waiting for it to hit the online library catolag, but I hope to read it by the end of the summer. This series is more mystical with spirits and fates tying the characters down. I believe this was the first series where I thought multiple POVs were done correctly. Usually, I can't tell the difference between different characters' POVs or one is less compelling than the other so I find myself skimming or skipping the chapter of the less interesting character. The stories from different characters (espcially the first book) melded into a cohesive story which felt like a Sparta-Legend of Korra fusion.
Sharp Objects by Gillian Flynn. Adult Gothic Mystery, True Crime. Graphic – Maybe a thriller, but a slow burning one. It might take me several weeks to complete. It's less than 300 pages, but it's dense in the details where all hope is drained away leaving only oppresive sensory images for the reader. I don't know how people can read this and consider it light beach reading. I'm a fast reader, but it took me twice as long to read two chapters because I felt like I was under the influence of a humid three digit weather day with no air conditioner. Honestly, I'm reading it because the TV show is coming out and I wanted to study her descriptions for my own writing.
 I'm Still Here by Austin Channing – Nonfiction commentary/essays. The book is expensive so I've only been able to read excerpts. I wanted to read this one after I heard so much praise about it's relevance. The author discusses her experiences as an African American in the church. During one of my Barnes and Nobles jaunts, I found myself chuckling aloud at some of her stories. If you listen to Babbie Mason as kid, you'll understand.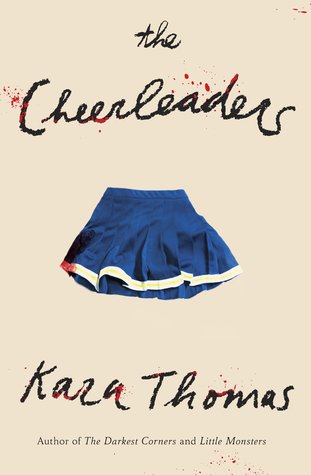 The Cheerleaders by Kara Thomas. YA thriller/true crime – Comes out July 31st. Murder and cheerleaders. Not really sure what the book is beyond that, but I'm a fan of Thomas. Little Monsters and Darkest Corners were the books I read into the wee hours of the morning because I had to know.  Who was the killer? Less depressing versions of Gillian Flynn's books. There's a smidge of hope running through her books and a faster pace.
So what's your summer reads? Any recommendations? I'm in need of some book variety.